Since its inception, Byetsa has been synonymous with excellence in the manufacture of bias tapes for both haberdashery stores and industrial sectors. Our leadership in the market is based on offering a diverse offering and, above all, on the values that define us: quality, dedication to service and experience accumulated over the years.
Bias tapes, essential for giving that perfect finish to garments, belts, bags and more, stand out for their softness and adaptability. In addition to their aesthetic function, they offer a resistant and durable finish.
The prints vary from neutral colors and children's designs to bold proposals such as leopard motifs or velvet-like finishes.
Byetsa, over the years, has built a solid prestige in the manufacture of ribbons for the demanding fashion sector.
And, in order to meet different demands, we have created two distinctive lines: Fany and Byor.
Bias tapes for haberdashery
Fany is our distinguished brand aimed specifically at the haberdashery segment, presenting products in small formats, ideal for artisans, designers and sewing enthusiasts.
This approach allows us to efficiently and specialized serve a wide range of clients seeking precise, high-quality solutions for their projects.
Within the extensive variety that Fany offers, the bias tape made with polyester and cotton in a balanced proportion of 50%-50% stands out with special relevance.
This combination is not random, since each component provides unique characteristics to the final product:
Cotton
Known for its softness and comfort, cotton provides a natural feel to the touch.
Additionally, it is breathable, making it an excellent choice for garments that are in direct contact with the skin. Its texture and stability give the tape a magnificent ability to maintain its shape, without deforming easily.
Polyester
Polyester, on the other hand, is renowned for its durability and resistance to wear and tear. Its inclusion in the bias tape ensures that the product will maintain its vivid colors and will not fade easily, even after multiple washes.
In addition, the polyester provides additional resistance to shrinkage, ensuring that the tape retains its original dimensions.
The decision to use non-textured polyester yarns in the composition is deliberate. This choice allows the fabric to have a more natural appearance, similar to 100% cotton fabrics, but with the added advantage of the durability of polyester.
This approach combines the best of both worlds, offering our customers a product that is refined in appearance, durable and feels extremely pleasant to the touch.
It is evident that every detail in the production of our bias tapes has been carefully thought out to ensure maximum quality and customer satisfaction, reflecting the commitment and passion that Byetsa puts into each of its products.
Bias tapes for clothing workshops
Byor, on the other hand, is dedicated to meeting the demands of industrial garment shops. Manufactured with superior quality inputs, this line of products is produced entirely in the province of Barcelona.
Although we offer standard sizes such as 12, 18, 25 and 30 millimeters, we are flexible in adapting to our clients' specific requirements. Beyond these two lines, our catalog is a reflection of the diversity and richness of the textile world. Some of our stars include:
Vichy Bias: Originating from the French city that bears its name, the Vichy design has been a timeless classic in the textile world for decades. This classic and always on-trend choice features a checkered pattern that evokes a fresh, country feel. At Byetsa, we recognize the versatility of this design and, therefore, we offer various variants such as the vichy square, for those who prefer larger squares; the mini painting, for a more detailed and delicate look; and striped gingham, a modern reinterpretation of the traditional design that provides a more linear and structured aesthetic.

Satin bias: When talking about luxury and sophistication in the textile world, satin always occupies a prominent place. Our satin bias tapes exude innate elegance, characterized by their glossy finish that subtly reflects light and has an indescribably soft feel. Its 100% polyester composition not only guarantees quality and durability, but also ensures that the bias binding maintains its shape and shine even after multiple uses.
Lamé bias: For those designers and fashion fans looking for a distinctive and eye-catching touch in their creations, lamé bias is the perfect choice. Incorporating lurex threads, this bias offers a metallic shine and unparalleled sophistication. It is ideal for enhancing festive garments, stage costumes or any design that seeks to capture attention.

Elastic bias: In a world where fashion demands adaptability and comfort, elastic bias is presented as an innovative solution. By incorporating elastane into its fabric, this bias binding not only offers excellent elasticity, but also guarantees a perfect fit on any garment. Whether for sportswear, everyday garments or couture design, elastic bias binding has become an essential component in any designer's arsenal.
Printed bias tape
A true example of creativity and diversity in the world of bias tapes. Printed bias offers an infinite variety of possibilities to adapt to any design or trend. At Byetsa, we are proud to present a wide range of prints that range from the most classic to the most avant-garde: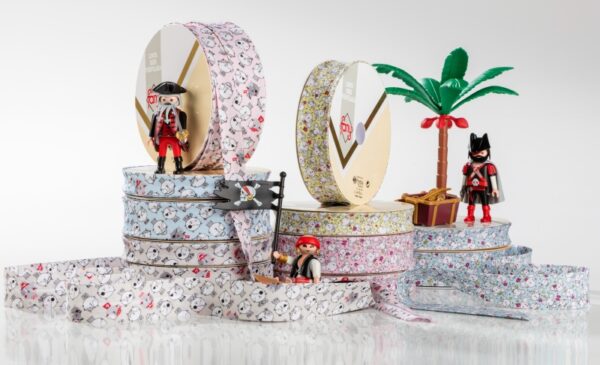 Flowers and botanicals: If you are looking to add a natural and fresh touch to your garments, our bias bindings with floral prints are ideal. From delicate roses to vibrant tropical prints, these designs capture the beauty of nature.

Geometric: For those looking for a more structured and modern design, we offer bias bindings with prints of geometric shapes such as triangles, squares, circles and much more.

Cultural motifs: Inspired by traditions and cultures from around the world, these printed bias bindings can include designs that evoke traditional patterns, such as ikat, paisley or batik.

Animals and Wildlife: From stylish leopard prints to adorable pet patterns, these bias bindings are perfect for adding a wild or cute touch to your designs.

Seasonal trends: At Byetsa, we are always aware of the latest fashion trends. That's why we regularly update our printed bias binding offering with designs that reflect current trends, from abstract prints to festive motifs.
Looking for something unique? We also offer custom options, allowing customers to leave their distinctive mark on each creation.
If you would like more details or personalized advice on our range of bias tapes, we invite you to contact us. Either through our email [email protected], calling 93 874 40 98, or by filling out our contact form, we will be happy to assist you.